Updated September 21: The winner of the $40 Amazon gift card is….
15- Allison! Congrats! You will receive an email with your prize!
Asurion Saves You from Mobile Mishaps
Does the image below look familiar to you?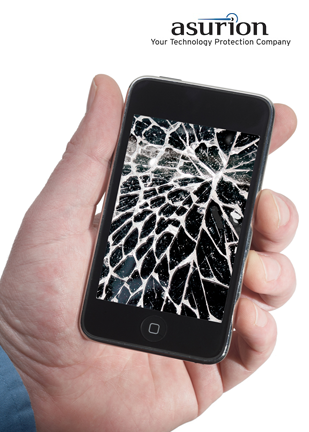 Content and/or other value provided by our partner, Asurion.
How about this one?
Content and/or other value provided by our partner, Asurion.
I know I am guilty of many, many mobile mishaps.  In the last two years,  I dropped my first Droid on the cement and it looked exactly like the first image above! I left my second Droid in a cab when I was drunk! I lost my first iPhone at a Brooklyn dance party (also drunk). I am now using my second iPhone so let's not jinx anything!! Did you know that 80 million people damage or lose their phones per year?

Content and/or other value provided by our partner, Asurion.
Asurion is a technology protection company that can help with the mobile mishaps mentioned above!
Handset protection is an optional mobile phone insurance program utilized by more than 50 million subscribers. The best insurance programs cover loss, theft or damage – even water damage, for a low monthly fee.  If this occurs, you can file an insurance claim and pay the deductible by phone (or with some programs, online), and a replacement handset just like your current cell phone will be shipped to your doorstep.
Asurion Protection Package Details:
The complete Asurion protection package, available through most wireless carriers, provides consumers with (1) Software that protects mobile data against the growing number of cell phone/smartphone threats and helps them locate a lost or stolen phone and (2) A replacement device, usually overnight, in the event a phone is lost, damaged (even water damaged) or stolen.
Why am I blogging about this you may be wondering? Asurion wants to hear from you!
Share your mobile mishap story and you could win a $40 gift card to Amazon!
How to enter:
1) Leave me a comment telling me about your mobile mishap story. How did you lose or damage your phone?
2) Tweet about the giveaway. "Win a $40 Amazon Gift Card from @MissyMaintains. #AsurionSaves.  Enter here: http://bit.ly/UllnZV"
I will choose the winner this Friday, September 18. Good luck!
Disclaimer: Asurion provided me and a winner with a $40 Amazon gift card. I was not paid to write this post.
Related posts: